Memoirs of a Mississippi Chessplayer
A Forrest Gump of Chess*
College
Round Robins
Algebraic Notation
Army
MCA
Computer Chess
Optimist Club
Memoriam
USM 1993
Scholastic
Brooklyn Castle
School years. I first saw the game at the YMCA (at High & N. State Streets, Jackson MS) one summer while waiting for my mom to give me a ride home from whatever program I was in then, probably a rising 5th grader. The use of the library was encouraged and I checked out a beginner's chess book from the library a block away. Mom got me a plastic chess set on the way home and I was in business. The book covered a little of all parts of the game, but I was having too much success with the Scholar's Mate (a simple 4-move checkmate which only works against beginners) against other kids in the neighborhood to be concerned with the rest of it. Eventually I heard about the Capitol City Chess Club meeting at the "Y" (the kids I saw earlier were probably using the sets they kept there) and my dad let me go down there once. I had no clue as to what happened to me except not to go back with only the Scholar's Mate arrow in my quiver as I was totally destroyed. As an aside, that chess club was missing a number of white knights from their sets--it seems Richard Boone's role as Paladin on the hit TV show "Have Gun, Will Travel" and sometimes talked about the knight (a decoration on his holster) and chess on the show or the monologue which preceded it. Didn't learn that until I was in high school.
Now in junior high (I was a 7th grader at Chastain the year it opened), a boy from Birmingham (Lonnie Oliver) moved up the street from me and we played quite a few games. We both usually tried the Scholar's Mate and it hardly ever worked, but at that time I didn't know what else to play--I just knew my pieces were awkward and not working together. My dad gave me a book, How to Win in the Chess Opening by I. A. Horowitz and it turned out to be exactly what I needed then (about the 9th grade). It explained the reasons behind the moves in openings and said in no uncertain terms why the Scholar's Mate stinks. My next game against Lonnie started 1. e4 e5 2. Nf3! and I never played the Scholar's again. Grasping other chess books was easier now and I was usually in contention at the Chess Club. I regarded my first win over an adult at the club a milestone for me at that time. My aunt gave me a subscription to the magazine Chess Review around this time which was very much appreciated.
Arriving at Murrah HS in the fall of 1962, there was no chess club but another classmate, Morgan Bunch and I were able to find a teacher who would let us form one (it was Carlos Boyte in 63-65). Along with Morgan, †Emmett Alford, and Don Howie continued a string of near equal opponents who helped each other improve. Morgan won the school championship the first year, we tied for it the second year--he moved to New Orleans for my senior year. Players like Burns Bishop, Jim Cone, and Ed Sherrad could win any given game and helped us notch wins against Provine, Central, and a team from Meridian HS. Then I won the school as well as the city in the Jackson High School Chess Assn, sponsored by attorney †John Poole (former Miss. champion), †Dr. Ross Moore (professor at Millsaps College), and John Vest who ran the tennis clubhouse at Battlefield Park (daughter Becky Vest was one of the best tennis players in the state then) and provided us with a place to meet and play. Provine student Robin Jones (class of 67) was a formidable and welcome foe.
The summer of 1964 saw me in my first rated (US Chess Federation) tournament, the State Championship at the King Edward in Jackson--my score of 1.5-3.5 was good enough for a 3rd place Class "C" trophy. College recruiters visited my high school and I found out that LSU had not only a full orchestra (I played violin since the 6th grade) but a USCF master, Jude Acers. At that time USM didn't have anything except a string program I was interested in. Computer programming (and chess playing programs) was still far off at USM.
The year before I got there, Bobby Fischer had given an exhibition and had played a match against Acers. In this next link, I played against Don Wagner at the Baton Rouge Chess Club many times and played in several tournaments directed by Frank RePass. Adrian McAuley was always in contention whenever he played and I am 1-1-1 against him.
At one of my early tournaments I met Henry Kleinfeldt from New Orleans who also graduated from high school in 1965. We corresponded for about three or so years through my early LSU years and he kept me up to date on the club there, finding foreign chess books (led to algebraic notation interest), meeting GM Walter Browne and problemist Andrew M Lockett.
College. LSU didn't have a chess club or program when I arrived, but it was easy to start one. We met weekly or in the Games Area of the student union where anyone coming in from the southwest corner of the campus could see if anyone was playing. I had joined a committee of the Union to push chess and soon Jude Acers was seeking me out. I enjoyed our meeting and usually enjoyed the chance to play against him. My style was largely shaped by his influence and the games of then world champion Petrosian--keep the game closed to try to hold his tactics in check. While he was there, my game improved tremendously (Fall 65 - Spring 68). In tournament games I was 2-5 against him, usually losing to his tactics, once it was a positional crush. In my first win, he tried too hard to make something happen in a drawn position. My 2nd win is included in my best games file near the bottom.
One of my responsibilities while on the Union's Game Committee (later changed to SPorts and RECreation "SPREC") was to select the teams for the Assn. of College Unions regional tournament and, since it was necessary to determine the first four places, my first interest in round robins and how they worked. It was here I discovered that if players with consecutive pairing numbers were seated in every other chair around the "long table" that the RR tables in chess rulebooks could be derived on-the-spot.
The really good opening books were sold in Europe and the USSR then, but were hard to find here. I read a book on the Caro-Kann Defense and later, English Opening, both in German. It was then I was introduced to algebraic notation (AN more on this later). I learned enough German to muddle through.
Both Murrah HS and LSU were chess deserts when I arrived. I was drawn to being a tournament director practically by default and ran several tournaments including three LSU Open's in 66-68 which for me was a nice laboratory. They attracted locals as well as players from New Orleans and Natchez. Jerry Krouse from Natchez probably wished the Mississippi River ran on the other side of his town since there was almost no chess in the state at that time. He put together a number of tournaments in Natchez such as the state championship and several Mississippi-Louisiana Opens (nicknamed "Miss-Lou"). In addition to Acers, the opponents I can remember are Edward Thomas Charles Lewis (aka Tommy or Et Cetera), Ronald Voll, Eric Villavaso, Paul Savoy, Conrad van Valkenberg, Jose Arias, William Pourciau, Charles Egerday (sp) and Rolando Pelaez. Acers, Pelaez and Joe Katz (a Canadian student and expert) won a majority of their games against me. Recent LSU Law School grad Karl W Cavanaugh split our tournament games--he won a match from me 5.5-4.5 while I won one tournament game while we drew many others. Only played Cary De Bessonet once, my swindle of him allowed me to advance in the 1967 playoffs for the LSU Championship; Acers finally won.
New Orleans, 1966. In the fall of that year I played in the Class C section of the New Orleans Chess Club Championship. For me, two noteworthy things happened, it was the first time I recorded games in AN and I had to talk my way into the tournament (a round robin) after the event had already started. As it happened there were 13 players in the event and everyone would have a bye at some point. I was given pairing number 14, canceling everyone's bye and made up my game against player number 1, who has the 1st round bye, later when both of us finished our scheduled games early. I won 12.5-.5 and was quickly propelled out of Class C.
Round Robins. I had wondered how I would have gotten into that round robin tournament if there had been an even number of players and, perhaps, a few of the 2nd round games had already started. It was then I started studying the round robin tables in the back of the tournament director handbooks and found a number of patterns. E.g.: players will alternate colors and play the person with the next higher pairing number when going to the next round. After meeting the player with the highest odd number, he meets player number 1. In the round where he reaches his own pairing number he either has a bye or plays the guy with the highest even number. For a physical model, imagine a long table with a number of chess sets alternating colors (an example for ten players is shown about a half screen below). There is a single chair on the end where the player with the bye waits or plays a guy on a separate card table. After each round the players rotate around (clockwise or counterclockwise, take your pick but it has to be the same direction each time) to meet their next opponent. The guy on the card table, if he exists, alternates colors each round, on all other boards the color assignments are fixed while the players move.
The tables published in official chess rulebooks through sometimes in the 1980's, called the Berger tables, would start with (for example, the 10 player table) players 1-5 having white against 10-6 respectively. The problem was that No. 1 would have white in the 2nd round as well while No. 6, having had black against No. 5 would have a 2nd black against No. 10. While everyone (except the bye guy) will have the same color in two consecutive rounds at some point, it isn't necessary to start the tournament that way. Still, it made it easy to understand how the table was put together and derive each player's schedule fairly quickly. I did this quite often at the end of Jackson Chess Club meetings in the 70's which ended with a speed chess tournament.
The long table model of the round robin schedule can be set up by assigning No. 1 to the player at the end visiting the bye board or bye station. Next give the next sequential number to every other player until everyone is numbered. If there is an opponent for No. 1, that player would have the highest number. For a 10 player tournament, players 5 & 6 are on the end closest to No. 1.; 2 & 9 are next; 4 & 7 and 3 & 8 complete the fixed boards in the 1st round. The following example, adapted from Richard A. DeVenezia's excellent example from his Round-Robin page, shows how this works:
"Bye player" or "Ghost" (DeVenezia's term) are synonymous in this discussion: The tables were revised to correct the double-white or double-black problem. It is worth noting however, that there are only so many things that can be done to R-R tables or their long table model: renumber the players, assign the opposite color to all the fixed boards, and/or assign the opposite initial color to the bye player. My own suggestion is No. 1 has White against No. 10 while players 2-5 have Black against 9-6. Each player (other than 10) would have White before their bye round (or play No. 10 with whatever color No. 10 is due) and Black in the following round, vice versa to the Berger tables. Player 10 would have Black against 1-5 and White against 6-9 as they came to him. These changes are already incorporated in the above example. Starting from 1 and going counterclockwise, the next sequential pairing number is seated (position 10 is excluded) in every other chair in my table. In Crenshaw's table, players 1 and 5 are reversed and players are seated in every other board going clockwise. Color assignments on the fixed boards remain the same, as do the colors on the bye (or ghost) board. In mine, randomly assigned pairing numbers are subtracted from the smallest ODD number greater than the number of players to determine the first round opponent and add one to that to get the next round. In Crenshaw's, subtract the pairing numbers from the smallest EVEN number greater than OR equal the number of players to start and subtract one to get the next round. In both, 1 and 9 (for ten players) are next to each other. When a player is "paired" with himself, he plays the "ghost" or sits out a round.
At the Paul Morphy Open in Baton Rouge in 1969, the 4th of July was on Friday so we held a seven round tournament with a 5-minute RR tournament on that Thursday evening. That was the only time I ever made players actually rotate around a long table.
I didn't figure out the Crenshaw tables until late in 2007, but then wondered what took me so long. It would have been fun to have been able to present my table when the change was being considered, but Crenshaw works, it's the standard now in the USCF Rules, 5th edition, and anyone who puts in a little study can derive any table without the "Official Rules" whenever a chess club is in the mood for a speed chess tournament, although it might be worth it to have the USCF reconsider since mine is a little easier to memorize. To print out a schedule for any number of players, click here. To randomly assign pairing numbers before a round-robin, click here. With an attentive group of players who can follow directions, you can tell them how to write their own pairings.
Understanding how the round robin works is essential if you need to splice in late participants after the first round has been played. For an example, click here.
A set of fortunate circumstances let me be in Dallas for the 2008 US Open and Delegates meeting. The chair of the Rules Committee had seen my work but felt the order of the existing tables wasn't a serious enough problem to take action on. Perhaps, "Wait till next year?" Or not. In 2011 the US Open was in Orlando and I didn't see the need for knocking my head against a wall for the second time.
rrpair.c rrpair.exe This is a DOS program and you will have to type "exit" and Enter OR close the window it opened when done.
Algebraic Notation (AN). In 1967, a questionnaire was sent to all USCF members and it included a question about using algebraic notation in their magazine, Chess Life. Having used it for about two years, I wrote the letter to Chess Life which appeared in the April, 1968 issue (Hans Berliner was on the cover, having just won the World Correspondence Championship). As far as I know, I was the first person to use the initials AN to denote algebraic notation in that letter. "Short algebraic" is what people use to record games and for notes in annotated games while "long algebraic" was used for the text moves like this:
1.
e2-e4
e7-e5
2.
Ng1-f3
Nb8-c6
3.
Bf1-b5
. . . . . . .
The move 3. Bb5 defines the Ruy Lopez
Few chessboards had the a-h and 1-8 on the borders back then. I just memorized the location of the h-file (King's Rook file on White's right) and used it as a reference to find the other kingside files. The queenside files (a-d) were easy already. A later letter to the editor a few months after mine suggested the following aids: king = Emperor, queen = Dame, associate bishops with other church officials: Cardinals and Friars, and knights should be Bold and Gallant. When I recently shared these in a USCF Forum, some posters noted there was nothing for the rooks. My favorite is castles are Architecture and Homes (thanks Jeff Wiewel).
More college. Jude Acers left LSU after the spring semester in 1968 for (I think) the west coast. In the fall of 1969, I was elected Secretary-Treasurer of the Louisiana Chess Association. Until then, the LCA was always dormant until the next year when the officers organized the state championship, however the new president (Spencer Hurd of New Orleans) started a newsletter (LCA Bulletin), had membership cards, and started charging dues. This experience in starting a state organization came in handy in Mississippi a few years later. Several people thought they were members simply because they had played in the last State Championship, but this was no longer the case. Bill Jones, the vice-president, printed the mailing labels for each issue and took over as treasurer when I had to resign after the spring 1970 semester at LSU to go into the Army.
Chess variants. Sometimes chess sets can be used to play other chess related games and these were often played in the LSU Game Room. A few examples:
Scotch chess. White makes 1 move, Black makes 2, White makes 3, etc. The series ends with a check and the first move must be to get out of check. After 1. e4 2. e6 Be7, Black threatens a number of checkmates. Best is 3. d4 Bg5 Bxe7 and both sides are in the game.
Two for one. White starts with four center pawns on the 3rd rank and king at e2. White may step into check as long as he is out of check at the end of his move. Black wins but only after really good defense.
Kriegspiel. Requires three sets and a referee. Players are told if a move is legal and, if a check, where it came from: the rank, file, long or short diagonal, or with a knight. They are told where captures happen and if a pawn can capture anything or if a move is legal.
Kamikaze. Players arrange their pieces on their side of the board behind a partition. The partition is taken away and the clock started.
Kamikaze-Kreigspeil. From the people who brought you WW II the above two are combined.
Giveaway. Nothing sacred about the king here. Captures are mandatory, but a player can choose which one. It resembles pool more than chess.
Cylinder. Pretend the board is a cylinder in that the a file is just to the right of the h file. A knight can move from g1 to a2 or a diagonal can run from f1-g2-h3-a4-b5-c6-d7-e8. Note on an open board a bishop on f1 controls the same squares as on b5, but can't be captured there.
Army life. In the summer of 1970 I enlisted in the Army with a Military Occupational Specialty of "Digital Subscriber Terminal Equipment" repair. That device was a computer hard wired for communication only. For advanced training I went to Ft. Monmouth NJ where I helped start a club and run the base championship thru the Service Club in 1971. Played in several tournaments in New York as well as the US Amateur in Philadelphia that year, but won no prizes. I was sent to the 1st Army tournament at Ft Mead, MD where I tied for 2nd in a field of over 60 in five rounds. I made Spec 4 graduating from school and was sent to Patch Barracks near Stuttgart, West Germany which (fortunately!) would be my final duty station. Initially I was going to be sent to Prüm, near the French border, (sometimes called STRATCOM Siberia). A video of GI's there in 1972 (I may have met some of them in late 1971) is here. As the US European Command Headquarters, we were top heavy with brass. A new friend and strong class B player, SSgt Edward Pointer asked his boss, an Air Force Colonel to speak to the head of my STRATCOM unit to not send me anywhere. Sgt Pointer frequently took me to a chess club which met under a soccer stadium in Sindlefingen (home of the Mercedes Benz, we drove past their plant to get to there). We also went to tournaments held by the European Chess District, an organization of American chess players in the military over there. Along with Lt. Col Floyd Holder (sometimes his son as well) and Jim Cardamone, we played in several ECD tournaments and organized one at Patch Barracks. The Fischer boom was in full swing while I was over there and the game was catching on all over. It lasted until well after I got back to Jackson. I also taught the game at the Youth Association at Patch for a while.
Spencer Hurd tried to introduce me to the All Service Postal Chess Club (ASPC) while I was in Louisiana, but I did not take him up on it until I was in the service at Ft. Monmouth. I was active in it until I got back home in 1973 and played the TD of the Armed Forces Championship (I think he was a Navy Chaplin).
I knew a very strong player visited the Sindlefingen club and one time Cardamone, an excellent speed chess player was almost holding his own against him in a series of 7-minute games. He gave me his seat when he had to take a break and I was thoroughly trounced in two games. Thinking I was complimenting him I said, "You would be at least a master in the United States." There was a puzzled look on my opponent's face while Cardamone (back by this time) said, "Don't you mean GRANDMASTER?" Oops, my opponent was Klaus Darga, International Grandmaster.
I went 4-1 in my first tournament in Frankfurt in late 1971 and won an event in Heidelberg (happened to be STRATCOM headquarters) 5-0 in early 1972 to give me an expert rating for the first time (2008). This got me into the 13th Annual Armed Forces Championship in 1972 and a trip to Washington. I scored 4.5-5.5 but finished first, having had the bye in the last round <g>. That year the Sea Services took first with the Army second and Air Force third.
The ECD publication which covered my first Frankfurt was excellent, in fact, the editor later did Chess Life for a number of years (†Larry Parr). The new editor who did the Heidelberg had no games from the event and quoted an annotated "instructional" game that was anything but. The crosstable had no ratings but everyone's USCF expiration dates. I just knew I could do a better job. At any rate, I continued to be active in the ECD, directing a few times and organizing an event at Patch Barracks. On leaving Europe, I was a delegate to the USCF business meeting in Chicago in 1973.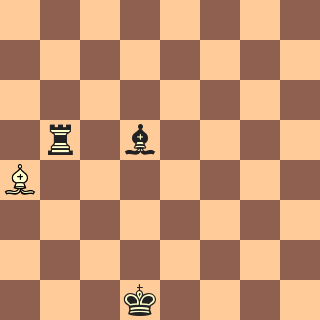 Back in Mississippi - an active decade. I arrived home just in time to play in and win the Mississippi Championship in 1973, the only time I won it outright. Plans were made to start a newsletter and charge dues and I immediately volunteered to serve as editor. My experience in the LCA was quite helpful and I served as editor for about six or so years. Of course, tournament games (some annotated) made up most of each issue, I liked to throw in some "off the wall" chess problems from time to time such as "Where is the White King" in the position at the left. It does indeed have a unique solution. This is a retrograde chess problem by Raymond Smullyan.

Place the WK at b3, add a WP @ c2 and BP @ b4--the BB was somewhere else on the long diagonal. 1. ... Bd5+ 2. c4 bxc3+ e.p. 3. Kxc3.

I also served two years as the Secretary-Treasurer of the MCA.

Many thanks to Dwight Weaver for maintaining copies of the Mississippi Chessletter on this website. He has provided complete issues here.

Some lackluster events over several years dropped my rating down to 1799 around 1976 (my 2nd US Open) but I wasn't able to win anything with it. I played in the Mid-South Open in Memphis several times in that period, once winning my largest cash prize ever. In Mississippi at that time Jerry Krouse and Troy Miller of Natchez, †Ed Issa, Stan Perkins, and John Masters of Greenville (later Jackson), and †Peyton Crowder of Starkville provided the most competition outside of Jackson. In Jackson I recalled Eric R (Rick) Johnson, Kim Hunt, Richard Doredant (moved to Florida in mid 70's), Gunnar and his brother Laird Woodard, Arthur Johnson, †M.A. (Red) Farrell, †Gordon Scott, Gary Ladner, Richard Price, †Keith Killcrease, and Joe Sentef. Gunnar improved rapidly and usually won our latter meetings. I had a perfect score against Scott although he had held both Gunnar and Joe to draws in tournament games. Keith had me sweating bullets in several games but I had a perfect score against him in tournaments. He won the 1981 state championship when Blitz was playing.

Computer chess. Being a programmer in addition to a chessplayer, I was interested in the idea of a computer playing chess. In 1978 I attended a computer conference on the Mississippi coast which featured a tournament between computer programs: Blitz from USM (it would become Cray Blitz later), Duchess from Duke University, and the Greenblatt program run by Ole Miss. A copy I bought of the proceedings from that conference showed how Robert Hyatt and Albert Gower created a chessboard in his Blitz program: it was a linear (i.e. one dimensional) array of 120 elements (squares). After twenty-one off board squares there was the 1st rank, two more off-board squares, the 2nd rank, two more off-boards, etc. ending in twenty-one off board elements at the end. Orthogonal moves were created by adding or subtracting 1 or 10; diagonals, 9 or 11; knight moves needed 8, 12, 19, and 21. Look at page 3 of the following link for a better explanation. Being the editor of the Miss. Chessletter (MCA's publication at the time), I needed something to proofplay the games I had entered. Later, I turned it into a program for entering games written first in COBOL, then transcribed into C. If White plays "Nh3", the program would look at all eight places a White Knight could be (the offboard squares are looked at and ignored, filled with weird immovable pieces). If only one knight can move there, the move is "played", then the program tries to see if any enemy piece (or pawn in a capturing motion) can take the king, and it's done for both sides. Since no check was announced (a final "+" on the move), neither king should be en prise. Having the "offboard" squares eliminated the need for a separate function or test to see if a square was on the board or not.

The "atmosphere" in a computer tournament is fairly unique. It isn't necessary to whisper since it doesn't disturb the players and people were exchanging running annotations and kibitzing. Most people (esp. USM students) were hovering near Dr. Hyatt's terminal while the people from Duke had lots of space. Duchess used AN while Blitz used DN and I helped out the Duke U team with the conversion. Later, I bought a copy of their program but only played one game with it, not being in a school at that time.

At first Blitz was generally welcome in Mississippi tournaments, but as it improved players became more and more hostile towards playing it. Joseph Sentef, a medical student in the state in the early 1980's, lost to it in our 1981 state championship and the game was printed in Chess Life. Dr. Sentef wasn't even named, Blitz's opponent was listed as "Human". Players in that event had the option of declaring they would NEVER be paired against Blitz, something that wreaked havoc with the pairings. The trend then was to keep computers out of human tournaments and Mississippi went along with that (maybe led the way). Click here to see the game.

When I went to USM in 1993-94, Dr. Gower gave me a number of details about working with Dr. Hyatt on Blitz. The two were close to each other in some type of fair for prospective students when Blitz was in its early stages. During a lull he played a game (as Black) that went 1. e4 c5 2. Bb5? a6 3. Ba4?? b5 4. Bb3 c4 and Black won. Gower was a rated player while Hyatt was fairly new to the game. Thus began their collaboration. While they were working on it, people waited all night to play against Blitz at USM and if they beat it they had to analyze it or give their analysis to Hyatt.

When the program started getting really good, at a computer conference (ACM?) Harry Nelson of Livermore Labs asked if he could help. After turning him down at first they found out he was one of the top programmers of Assembly Language for the Cray in the world. They determined which routines were used the most and rewrote those while most of the program was in FORTRAN. A transcription of the program written in C, called Crafty, is available for PC's.

Shortly after winning the World Computer Chess Championship, Dr. Aubrey Lucas, then president of USM, was the guest at an Optimist Club meeting (further down). When he took questions after his talk I asked if USM had done anything in the field of artificial intelligence. Of course, he was delighted to talk about Blitz and asked to speak to me before the meeting was over.

I am 2-0 against Blitz. At the 1978 conference it allowed me to win a piece in return for a fork at c2, not realizing the knight could never get out after taking a rook at a1. My 2nd game was between rounds at a "human" tournament--a bug forced it to sacrifice a piece unsoundly and I held on for the win. I never played it after the bugs were worked out and it moved to a Cray. For more information click www.computerhistory.org Chess for Everyone"

Start of burnout. Around 1978 in the spring, John Barrett, an Irish medical student who was an active chessplayer, ran a tournament in the basement of the Jackson City Hall. I had thought about playing, but it was a beautiful weekend and I just didn't want to be inside. About that time I bought a book, "How to Think Like a Grandmaster" by Alexander Kotov and really worked to get through the first chapter. I knew it was going to be a valuable tool for improving my game and I set it aside until I could study and really concentrate on it. That day never came. In 1980 I decided to really prepare to play in the State Championship and played tournaments in Greenville, Memphis (playing site was on the other side of Graceland from the motel, it was a pain to have to pass it), and the US Open in Atlanta that year scoring 7.5-4.5, highest Mississippian. My roommate and traveling companion in Atlanta was Kim Hunt (Who Wants to be a Millionaire and won it from Regis Philban), then living in south Jackson. I was ready to leave in the second week but Kim came to play. When the state tournament came I was only a spectator. At a rapid time control tournament later that year named "Chessnuts Roasting" I was waiting for the next to last round to finish (I had a chance to at least tie for 2nd) and was extremely uptight. Finally the thought came to me: "Chess is a recreation and you are not enjoying yourself. What are you doing here?" I dropped out of that event and gave away or sold a major part of my chess book collection within the next few weeks.

A few years after my burnout, I started playing in a limited number of tournaments and, surprisingly reached my highest USCF rating ever, around 2100. The early 80's also saw my longest winning streak, 17 rated games. It has since fallen back to 1980.

Be an Optimist. In late 1979 John Morgan, a fellow tenor in the choir at Galloway UMC was talking about an Optimist convention he attended. Chess Life had recently done an article showing Optimist Clubs in Memphis and El Paso had won awards for their scholastic programs. When I asked John if the local club had anything like that he said no but invited me to lunch to show me what I had. Of course it was a regular meeting of the O Club and I was put on the road to membership. Our first scholastic tournament was March 1, 1980 and we were able to have at least one event a year for the next thirteen years. For a while this tournament was also the scholastic chess championship for this state, but a local Optimist club has no business hosting a statewide tournament by itself. We dropped back to allowing only persons in the 39000-39299 zip code range while the Mississippi Chess Assn. (and later Miss. Scholastic Chess Organization) took up the slack.

I wasn't able to encourage other O Club members to take over the chess program or get other chess club members to join the Optimists. When I dropped out to go to back to college in 1993, the program died as well.

After running some early events, I would collect scoresheets and send copies of annotated games to the chess club advisors. Eventually, I made a book of these games, commentary, and crosstables. They can be found here.

Time hurries on. One of the first competitors in an O Club tournament is now old.
The O Club had sent a few dozen students to major competitions after they had done well in our tournaments. The only time I went with some of them was my last year, the 1991-92 school year when I drove the van carrying Madison Central High School to Lexington KY for the National HS Championship. Douglas L Stewart finished 6-1 in his section and had his picture taken with then World Champion, Gary Kasparov.
USM 1993-1994. I moved to Hattiesburg in November 1992 to get a degree in Computer Science and Statistics. Albert Gower, a music professor who helped Robert Hyatt develop the Blitz program was there when I arrived as was physics professor Larry Mead. We kept a chess club going there and ran a few rated tournaments. Unlike the Union at LSU, the Games Area at USM was not visible to hoards of passing students so dropping by the Union with the hopes of getting into a game simply wasn't possible. While there Gower, Mead, and I, along with a traditional student, finished 2nd in the Miss. Team Championship in 1993. I saw Dr. Gower quite often as his office (music composition) was next to the violin professor and across from the violin lockers.

Before I got a job offer after graduating in May, 1994 I offered to do typing on a few bulletin boards at the school. One of my (few) customers was a commissioner of a Pee-Wee or other youth football league in the area. In addition to typing letters and forms I also ran off a round robin schedule for the number of teams in his league. Instead of board numbers, he used time slots for the games on Saturdays. He had to do something extra for the "bye team" so far as scheduling since otherwise they would have played at the same time each week.
I worked in New Orleans for only ten weeks before getting a job offer back in Jackson. Never found the chess club, but played in a quick tournament in Slidell. I saw Jude Acers playing near the Café du Monde, but I never got a chance to speak to him.
1995-2003. I still enjoyed going to the chess club and being a reliable, "behind the scenes" guy in chess politics. I originally registered mcachess.org website and was its first webmaster with Douglas Stewart. Most of the website was his although I had contributed a few round robin pairing programs and my program used to enter chess games. The chess club had to move to the Food Court area at NorthPark Mall in Ridgeland. Chess had been used in gifted programs in elementary schools for quite a few years and the kids had been encouraged to seek strong competition, so the median age of the club has to be in the twenties.
I bought a demo board back in 1983 and used it often as I was frequently invited to help coach chess teams going to national competition or just introduce the game. More often than not I was helping run tournaments run by the Miss. Scholastic Chess Organization and serving as treasurer of both the MSCO and MCA. Instead of keeping up with memberships and paying for newsletters, the treasurer now collects entry fees and pays for trophies. My record after the USCF started keeping up with all players, TD's, and tournaments is here. They did not start keeping on-line records until 1990.
Passing thoughts.I hope we can remember fondly those players who have passed on. John Poole was honored by the MCA's publication, but Dr. Ross Moore was passed over. Gordon Scott has a spot on the MCA's website plus a memorial tournament while his close friend and competitor M.A. Farrell has no mention. †Dr. Michael LeBlanc, the first president of MS Scholastic Chess, has had no mention that I've seen by the MCA or MSCO. Of course, it isn't possible or desirable to make every tournament a memorial event. With the exception of the Optimist Club, other good people have stepped into the positions I once had and that might be the most anyone should ask for.

I enjoyed the game most when I was improving and wasn't expecting to do great things (or even good things). If I did well, great, if not, so what? When I slowed down improving was when I started to burn out. While I regretted not making master which might have been possible had I grown up in a more populated area, I doubt I would have done, or had to do, anything related to algebraic notation, round robins, or computer chess in their early days.
The learning and improving process is probably why I enjoyed working with scholastic chess. I enjoyed seeing a youngster improve over time if I had done something to help him along the way and can understand the vicarious pleasure parents have when their offspring enjoys what they enjoyed in their youth. However, I have also seen parents try to force their kids to play the game when they don't care for it. I'm now married and have a grandson who was in a gifted program in his school. I talked to his class and helped run the citywide tournaments he played in, but I didn't try to push it as he got older and started to lose interest in it. I would much rather that he have no interest in it than hate the game for life. He has a rating and enjoyed his first trip to the Jackson Chess Club and almost got the upper hand against a veteran player.

My interest in round robins has developed into another hobby since I started working on this. My ideas on round robin tournaments can be demonstrated on any computer with internet access and I would love for the right people to try it out.

Since I don't plan to put out more chess books, I would like to share some of my favorite upsets with you now. The game against Loal Davis was my highest upset with the black pieces and was played at the 1976 US Open in Fairfax VA when my rating was 1799. The game against Acers was played in 1967 during a playoff for the LSU Championship. Losses to other players kept me from winning it that year, but this game almost made up for that. He was rated at 2200 while I was rated somewhere around 1750. The game against Appleberry was at the Mid South Open in Memphis in 1978. I lost to John Hurt in the following round and Appleberry beat Hurt to force a three way split of first when we each won our other games: Games.pgn Various PGN readers available on the internet can play it for you w/o notes although you can print it out as text.

My wife also has a connection to chess in that her two sons played it in gifted programs in their schools. As a dental assistant in the Lancaster-Palmdale area of California around 1970, she helped treat †Bobby Fischer. He would either be the first or last patient of the day (sometimes on a Saturday) so there would be no one else in the waiting room and would arrive with an entourage. He did indeed have metal fillings removed so "they" couldn't track him.

In April 2013, I had a Question and Answer session at the Crossroads Film Festival when they showed Brooklyn Castle, a film about the chess team from Intermediate School (middle school) 318 from Brooklyn. It was quite enjoyable but only about thirty people saw it. The Q&A only lasted about three minutes.

Some thoughts about algebraic notation: I learned the game and endgame technique back in the days of DN and, for example, learned a BP or RP on the 7th rank can draw against a queen because of the stalemate threat if supported by the king and the superior side's king is too far away--I didn't have to learn it four <g> times. Same with rook on the 7th (or 2nd) rank. On the 2nd rank, a rook was either playing defense or was there in preparation to being doubled on the file. There was no need to give any extra study to it.

Other useful files.

chess2.exe chess2.txt This is my program for entering chess games. Be sure to download the chess2.txt file as well since there is no built in help in the program. It is a DOS program so entering the command "exit" or clicking on the X may be required when you finish with it.
knight.c Attempts to create a knight's tour. Give board size and starting square: "8 a1" is the default.
queen.c queen.exe Attempts to place queens on an open board so that no two are attacking each other. The default is 8 for an 8 * 8 board.
box.c box.exe A transcription from a GWBASIC program that came on our offices' first PC in the late 1980's and is a good exercise in deduction.
Chess Diagram Creates a chess diagram for the "Chess Case" font from Forsythe positions.

* Forrest Gump was a good chessplayer in the novel, but this was never developed in the movie.
† Deceased
© 2018 by Warren Porter

Many thanks to Robert Hyatt and Albert Gower for filling in some Blitz details.